Christina Howell (she/her)
Executive Director
[email protected]
Christina's work in community development includes positions at Community Design Center of Pittsburgh (now Design Center) and Mt. Washington Community Development Corporation. With BDC since 2014, she also worked in commercial real estate and in public relations at both the State Museum of Harrisburg and the Senator John Heinz History Center. Currently, Christina serves as Treasurer on the Baum Centre Initiative. A three-year alumnus of AmeriCorps, Christina graduated from Duquesne University and lives with her family in Bloomfield.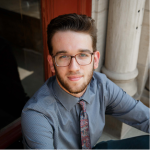 Sam Spearing (he/him)
Housing & Mobility Coordinator
[email protected]
Sam Spearing, a native of Holtwood, Pennsylvania, completed his undergraduate degree at the University of Pittsburgh with a major in Political Science and a minor in History. During his time at Pitt, he co-founded the Pitt Progressives Organization and was a swim coach for the Southern End Community Association. He also served as a Deputy Fellow Manager for Sara Innamorato for State Representative and a Campaign Fellow for Summer Lee for State Representative. In his free time, Sam enjoys hiking, camping, reading, and knitting. He is a part of the East End cohort, and lives in Bloomfield.
Heather Hanus (she/her)
Program Coordinator
Bloomfield Saturday Market
[email protected]
Heather Hanus is the Program Coordinator of the Bloomfield Saturday Market. Originally from Florida, she received her Master's degree in Food Studies from Chatham University. Prior to coming to the BDC heather worked in a brewery as well as a food pantry, and currently volunteers with a restorative justice diversion program for teenagers. Since coming to Pittsburgh three years ago, she has lived in several neighborhoods, and currently resides in Wilkinsburg.